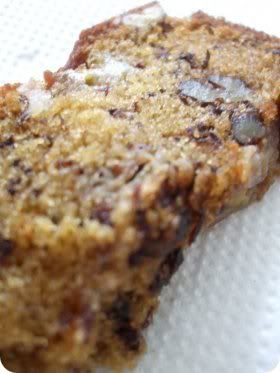 Mum was craving banana nut muffins last night. So! today, we have Banana Walnut Loaf. Highly recommend this recipe which has been inspired by one taken off www.allrecipes.com. It is amazingly moist and left wrapped in clingfilm overnight it gets so much better and tasty. Perfect for a little snack after lunch or on a day when you're just peckish (like me). I'll definitely use this recipe again, but I might try adding cream/sour cream just to see what happens as Martha Stewart has a very similar banana bread recipe which incorporates sour cream and uses more flour!

1 cup plain flour
1 cup mashed very ripe bananas
nearly 1 cup of light brown sugar
1/2 cup unsalted butter
pinch of salt
1 tsp baking soda
1/2 tsp ground cinnamon
1 cup walnuts, chopped
2 eggs, beaten

Cream the butter and sugar well. Add the mashed bananas and give it a quick mix. You should refrain from mashing the bananas too well as leaving little unmashed tiny chunks is always a good surprise when you're eating it!
Add the eggs and mix well.
Sift the flour, salt, and baking soda together. Add the wet mixture to the dry ingredients. Add the cinnamon and fold in the walnuts last.
Bake in a loaf tin at 175dCelsius for 60min.


Print Page